THE HEART OF A LEGEND
Yes, TRX is the most powerful production street-legal half-ton pickup ever built. But why on earth would you only drive it on the street?
Supercharged 6.2L HEMI® V8
When your engine boasts Best-in-Class horsepower and torque, you don't need any artificial noise enhancements to create an authentic sound.
Powerful Supercharger 
The twin-screw supercharger provides near instantaneous torque, has a maximum speed of 14,600 rpm and can regulate boost pressure up to an astounding 11.0 psi.
Massive Airbox 
The high-performance air induction system filters four times as much dirt and debris than the Ford Raptor, all while consuming up to 32.9 liters of air per minute.
Legendary Engine Block 
A robust cast-iron block restrains a forged-steel crankshaft with induction-hardened bearings, all engineered to withstand firing pressures of 1,595 psi—the equivalent of 20,000 pounds of force.
Performance Pages
A suite of customizable performance and off-road pages, designed to help tailor vehicle performance to your exact driving needs, are integrated within the digital cluster and massive 12-inch touchscreen.
TRX is the first Ram truck to be equipped with Launch Control with Launch Assist, which regulates engine RPM and monitors wheel slip feedback in order to always achieve the fastest possible acceleration rate.
BEGIN YOUR REIGN
TRX is a performance truck and an off-road truck, designed to keep you in command of all 702 horses across ever-changing terrain.
13" FRONT SUSPENSION TRAVEL
14" REAR SUSPENSION TRAVEL
The all-new Bilstein® Black Hawk® e2 shock system is the most sophisticated ever offered on a production truck and it's found only on TRX.
Flat-Bottom Steering Wheel
---
The first performance-focused steering wheel on a Ram Truck boasts integrated aluminum shift paddles, a flat-bottom shape and available carbon fiber and Alcantara® suede accents—exactly what you should expect in a performance truck.
EIGHT DRIVE MODES + VALET
From an exclusive switch bank, TRX adapts at your command with performance-tuned drive modes for on- and off-road excursions.
SPORT MODE
Quicker shift times, a tightened suspension, a 30/70 torque split and sport-tuned stability control empower TRX with the optimal performance-truck setup on paved surfaces.
SNOW MODE
Why allow weather to limit your performance? TRX employs an initial 45/55 torque split and manages engine horsepower for optimal launch performance on snow and ice.
CUSTOM MODE
TRX awaits your command. Create a tailored driving experience by dialing in your preferred steering feel, torque split, suspension firmness and more.
MUD/SAND MODE
In deep sand and mud conditions, TRX uses a 45/55 initial torque split and calibrates both throttle management and torque distribution to mitigate wheel slip and improve traction.
ROCK MODE
With boulders in your sights, TRX shifts to an extra low gear ratio and uses a 50/50 torque split. Plus, a Selec-Speed® Control holds a set velocity for a controlled descent.
BAJA MODE
When taking on dunes, this off-road truck reduces shift times by 68%, sets its suspension on full damping and allows for moderate oversteer to impart maximum fun.
INSPIRED BY THE COMPETITION'S NIGHTMARES
Don't blink. With eight extra inches of overall width, massive 35-inch tires and a menacing stance, TRX asserts itself as the most muscular truck to ever leave our factory.
A menacing grille, functional air intake scoop and flow-through R-A-M badge ensure unobstructed air flow to the engine. Plus, integrated amber identification lamps create a signature look.
ASSUME YOUR THRONE
Premium materials, uncommon refinement and our latest technologies prevail inside TRX.
The all-new available HUD serves as your virtual cockpit, projecting an array of customizable information on the windshield.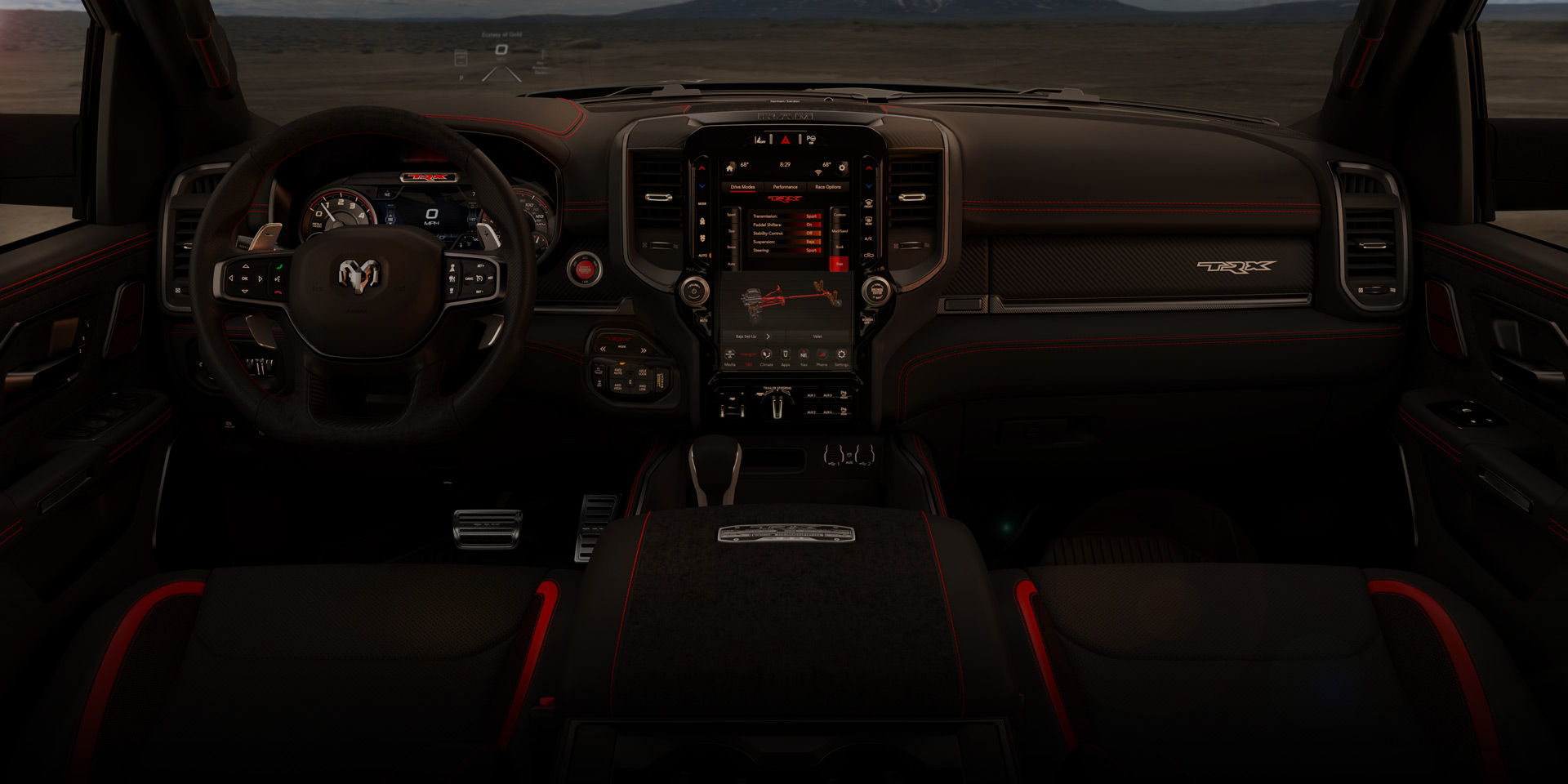 AUX Buttons 
An integrated switch bank features up to six auxiliary buttons, and an available Trailer Reverse Steering Control system.
Center Shifter 
Performance takes center stage with a distinctive center-mounted gear shifter with a manual shifting mode.
TRX Badges 
With TRX-exclusive badges on the center console cover and glove box, there's no doubt you and your passengers will always remember the name.
Aluminum Shift Paddles 
For the first time ever on a Ram Truck, aluminum shift paddles are integrated within the flat-bottom steering wheel.
BUILD YOUR 2021 RAM 1500 TRX
VIEW OUR AWARD-WINNING LINEUP
---
TRX is our latest addition to an impressive lineup of capable trucks. See why more people than ever are switching to Ram.